How to reset your PartnerHR password?
Administrators


Administrators should go to the User's Account and select Manage. Then select "Remove Access". Then "Give Access" and provide a new password.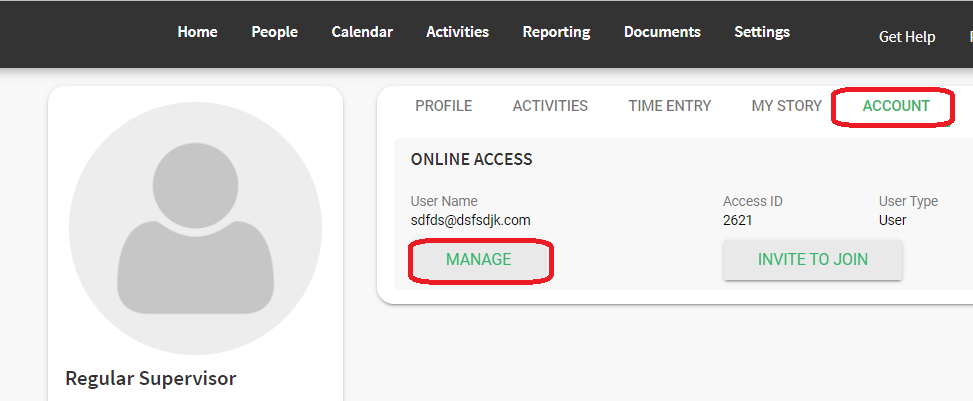 Users


Users can use the "Forgot Password" link available when they try to log in to Silent Partner. Users are asked to enter the email associated with their account and are emailed a new password.

A user who is already logged in and wants to change their own password should go to their Profile and click the "Account" tab. They can then enter a New Password/Confirm Password

Related Articles

How to reset user passwords

There are a few options for retrieving or resetting user passwords. 1) Login as an Admin and go to the user's profile. Go to Account > Manage and select "Remove Access". Then "Give Access" and provide a new password. 2) Users can use the "Forgot ...

Hosted Solutions - How to Reset Your Password

Your donors expect that your organization will take all the necessary steps to safeguard their personal information through proper security. One of the key ways to protect your organization from outside infiltration is by maintaining a secure ...

How to manage users as an administrator

As an administrator, you have the ability to add and remove users from your WordPress site. After you have added a user, you can edit profiles at any time and change any information such as password, change in their role, and more. 1. Click on the ...

Manage Passwords and Security Lock Outs in the Cloud

Please note that only Cloud Admins have access. Once logged onto the Cloud, please select Admin Setting-Cloud Users Find your user that you need to assist in either their password reset or to unlock their account by clicking on the Green ...

How to create users and give them access to PartnerHR.

There are two steps to carry out for you to create and invite users to PartnerHR. Step 1: Creating a User A helpful tip: Start by setting up user profiles for your Supervisors first. That way when you set up the user profiles for people they ...
Partner Academy

Learn what you need to know, any time. Free!

High quality training on demand - sessions are available every day, so you can access training that fits into your schedule.


Training sessions that are easy to follow - h

elpful tips throughout each session, and access to training moderators ensure your questions get answered.


A certificate of completion -

you can request a certificate of completion for every session you attend.