Using Partner HR's Organizational Structure (aka. Org Chart)
Partner HR can produce an a visualization of your organization's structure (aka. Org Chart) based on user profiles and who is assigned as Supervisors.

To access your Org Chart, go to the People page and click the Org Chart icon.


Profile photos from each person's record will display on the Org Chart.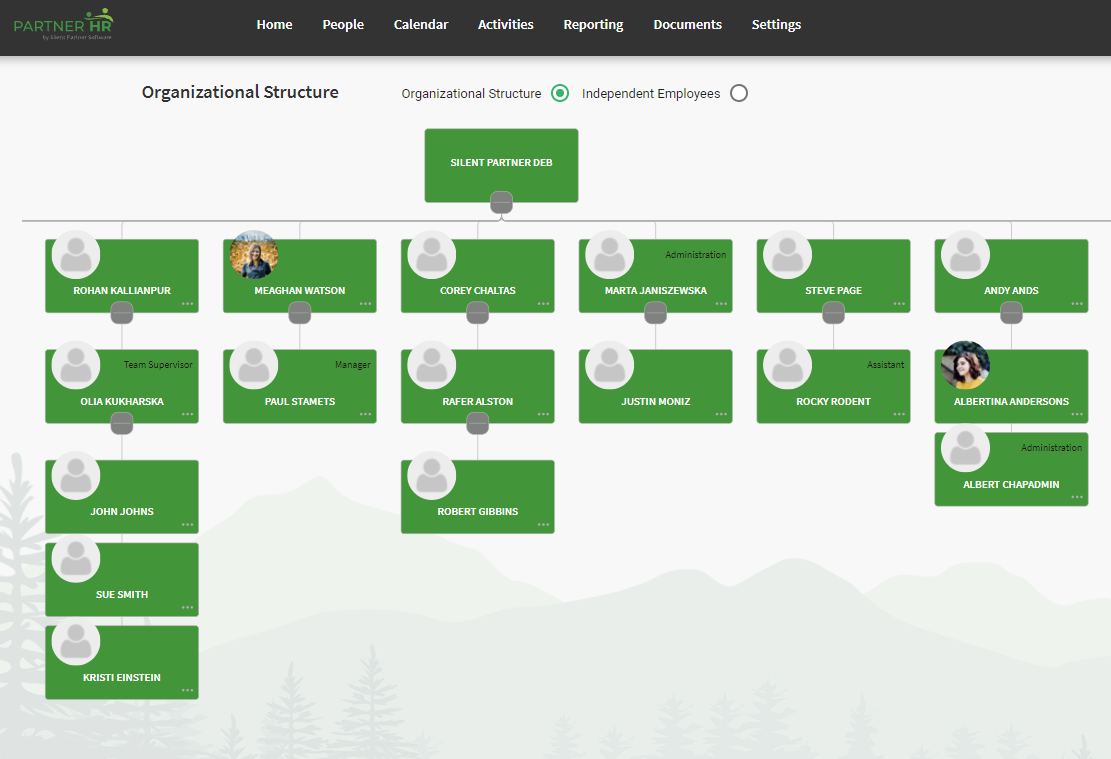 Related Articles

Using PayPal with Silent Partner - Downloading Transactions

Downloading PayPal Donations and Transferring Funds See Previous Topic: Using PayPal with Silent Partner - Setup With this module you are able to easily download your PayPal donation records into Silent Partner in a few short steps. Open up the ...

Silent Partner Release Notes (5.0 and earlier)

Release Log Silent Partner Support 1-888-855-2086 ext. 3 support@silentpartnersoftware.com 5.0 Cloud Addition of Select All/De-select All when adding G/L accounts to a user account as an administrator When deactivating a user, it is no longer ...

How to Backup the Silent Partner Desktop

Step 1: Go to the opening screen (aka the "green screen") and click on the "Back up data files" button. [You can also access the backup feature through Maintenance => Backup/Restore => Backup Files] Step 2: You will now have a window pop up giving ...

What is a Profile in Partner HR?

Profiles of your People can be found by clicking the People tab of the menu bar, or by clicking the number that appears on the Homepage under "Number of People." The profile consists of two parts: On the left is a tile that is visible to all users ...

How to edit your profile in Partner HR

Setting up your user profile and keeping it up to date is very important to the effectiveness of your account within Partner HR. You can edit your profile by following the step-by-step instructions below. Note for Partner HR administrators: To allow ...
Partner Academy

Learn what you need to know, any time. Free!

High quality training on demand - sessions are available every day, so you can access training that fits into your schedule.


Training sessions that are easy to follow - h

elpful tips throughout each session, and access to training moderators ensure your questions get answered.


A certificate of completion -

you can request a certificate of completion for every session you attend.